Stayed at Monument campground, named for the 50 ft rock formation at the center of the picture.

Hiked along the Canyon Plateau, which is 2200 ft below the canyon rim.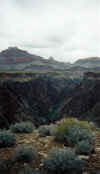 Some of the vegetation that was found in abundance on the plateau. Knee-high and sharp.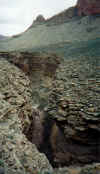 An example of scenery too big for just one picture. I would have pulled it off except for the moving clouds.

The stalk is part of a Century Plant, which lives for 100 years, then sends out the stalk and dies. It is 6 ft tall.

Lunch time and a rousing game of Hit-the-Rock-with-your-Water-Bottle.